Botox
How does Botulinum toxin work?
As the muscles that cause facial expression work, over time this results in the development of frown lines, forehead lines and/or crows feet. Injecting Botulinum toxin into the affected area temporarily paralyses the underlying muscles responsible for wrinkling, giving the face a more relaxed and pleasant appearance. The wrinkles become smoother or disappear altogether.
When and how long does the Botulinum toxin work?
The initial effects of the treatment become visible within 48 to 72 hours. The maximum effect is reached after about 7 to 14 days. The facial expression will become more relaxed. The overall result is very natural. The effect of the treatment generally lasts about 4 months. Re-treatment is then required.
Side effects
Botulinum toxin administered for wrinkle correction by injection is generally a safe and effective treatment method. Nevertheless, certain side effects can occur, but like the intended treatment effects, they are mostly temporary.
Patients should not have treatment if they are...
Pregnant or nursing mothers
Have Muscular Sclerosis
Have Myasthenia Gravis
Have Lambert-Eaton Syndrome
Blood clotting disorders
Allergic to Botulinum toxin
Taking muscle relaxant medication
Taking anaesthetics
Taking certain antibiotics e.g. Streptomycin, Penicillamine
Taking Calcium channel blockers
List of possible side effects?
Bruising or swelling at the injection site
Nausea
Tiredness, pain in the arms or legs
Temporary drooping of the eyebrow or upper eyelid
Brief visual disturbances
Dryness of the eyes
Skin rash
Itching
Allergic reactions
Dry mouth
Muscle wasting
Prices
The cost of treatment does vary according to the severity of the problem and the amount of toxin that is needed.
| | |
| --- | --- |
| Forehead wrinkles | From £120 |
| Frown lines | From £120 |
| Eyebrow lift | From £170 |
| Crows feet / smile lines | From £150 |
| Full face | From £359.70 |
| Excessive sweating | From £POA |
Other treatments as required
Before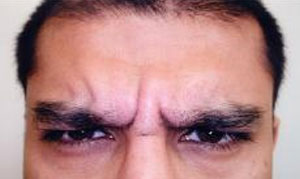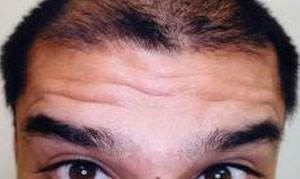 After